Redundant
From Green Day Wiki
Jump to navigation
Jump to search
"Redundant" is the fourth track off Nimrod, and the third single released from the album. It comes after "The Grouch" and before "Scattered" on the album.
Song meaning
[
edit
]
Before the Nimrod sessions, Billie's marriage was deteriorating, since he argued with Adrienne constantly. Influenced by this conflict, Armstrong reflected on the relationship from two standpoints: the first being his passion for his wife, the second being the repetitious pattern that the relationship had fallen into. The phrase "I love you" had lost its effectiveness and seemed to be said merely out of routine.
Main article: Redundant/lyrics
Music video
[
edit
]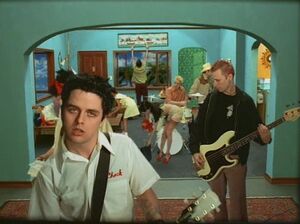 The music video features the three band members performing the song in the middle of a house. The camera angle remains static for the duration of the video.
In the background, several people repeat various mundane tasks for the duration of the video:
A newspaper is thrown from offscreen.
A woman stretches her arms and yawns, and then collects the paper and leaves.
Someone takes a painting off of a wall and replaces it with a new one; then someone else comes in and replaces that painting with the one that's just been replaced.
An old lady walks in and tries to find her way out.
A young girl walks from the left side of the screen, places a box on the coffee table next to the couch, and then climbs out of a window.
A man in a green suit jacket walks around, picks up the box from the coffee table and leaves.
A man in a cowboy hat walks around.
A woman in a bright red dress takes it off and walks away in nothing but her bra and shorts.
A balding man comes in, puts on a pair of trousers, then leaves.
An obese man walks in from behind bringing a plant and putting it on a table by the wall.
A woman with a large pot picks up the plant and walks around.
A man and a girl walk towards a couch and begin making out.
A man is vacuuming.
A young girl in a skirt comes in through a window, looks around, and leaves.
The activity peaks near the middle of the video and declines near the end. Tré and Mike leave, but Billie removes his guitar, hands it offscreen, and picks up the newspaper before walking away. The woman comes out to get it and screams upon finding that it is missing.