The Network
From Green Day Wiki
Jump to navigation
Jump to search
| | |
| --- | --- |
| | This article is in need of a rewrite. The reason given is: rumors, unsourced info, and just plain messy; needs updating. |
The Network is a six-piece new wave band and a secret side project of Green Day. They released their first (and only) album Money Money 2020 via Adeline Records on September 30, 2003.
According to an interview with John Roecker on DJ Rossstar's Punk Rock Show on March 19, 2009, The Network is planning a second record, and "Omega 3000" is said to be one of its songs. Information on a second album has not been heard from since.
Members
[
edit
]
Fink - lead vocals, lead guitar
Van Gough - lead vocals, bass guitar
The Snoo - drums
Z - keyboards, backing vocals
Captain Underpants - keytar, backing vocals
Balducci - rhythm guitar, backing vocals
Money Money 2020

[

edit

]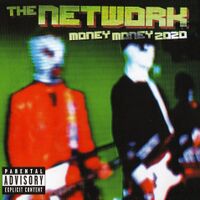 Money Money 2020 (pronounced "money, money, two-thousand twenty") is The Network's debut and only album. The album was released on September 30, 2003 through Adeline Records. The Network is reportedly formed from members of Green Day and Devo in disguise, though both bands actively disavow any connection. This is in spite of the fact that Green Day's frontman Billie Joe Armstrong's vocal style can clearly be heard on some tracks on the album. The frontman left a message on the official Green Day message board saying, "I bring them to this country, I produce their album, and how do they thank me? By talking shit about my band? I've only got one thing to say: Fuck the Network. Bring it on." The album came with a DVD that featured six music videos directed and produced by Roy Miles of AntiDivision.
On November 9, 2004 the album was re-released by Reprise Records. This release did not include the DVD, but did include two additional tracks, "Hammer of the Gods" and "Teenagers from Mars", which appeared in the video game Tony Hawk's American Wasteland. On the same day, The Network released another DVD, Disease is Punishment.
Money Money 2020 is rumored to be related to the cancelled Green Day album Cigarettes and Valentines. Green Day has denied this claim, and it is most likely false as no source corroborates the claim.
"Roshambo" is on the NHL 2005 soundtrack. A segment of the song "Joe Robot" can also be heard on several VH1 specials like "All Access", MTV 2's "High School Stories", and at least once on the MTV show "Pimp My Ride."
Track listing
[
edit
]
"Joe Robot"
"Transistors Gone Wild"
"Reto"
"Supermodel Robots"
"Money Money 2020"
"Spike"
"Love and Money"
"Right Hand-a-Rama"
"Roshambo"
"Hungry Hungry Models"
"Spastic Society"
"X-Ray Hamburger"
"Teenagers From Mars"
"Hammer of the Gods"