Foxboro Hot Tubs
From Green Day Wiki
Jump to navigation
Jump to search
Foxboro Hot Tubs is a garage rock band and a side project of Green Day, formed in late 2007. The band members include every member of Green Day, including touring members Jason Freese and Jason White, and Kevin Preston of the Los Angeles-based rock band, Prima Donna.
Billie and Jason White created their own pseudonyms in the band; they are respectively known as Reverend Strychnine Twitch and Frosco Lee.
History
[
edit
]
Stop Drop and Roll!!! (2007–2009)

[

edit

]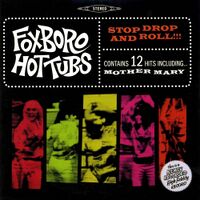 On December 8, 2007, Foxboro Hot Tubs released their debut EP Stop Drop and Roll!!! on their website, free of charge, in streaming and downloadable MP3s. Five days later, on December 13, the MP3s were taken off the website, which then displayed just a clock. The MP3s were reinstated on December 16, but were removed again and replaced with the same clock. Eventually the website redirected to the band's MySpace.[citation needed]
During live shows, people noticed Foxboro Hot Tubs's similarity to Green Day, and rumors about their connection to Green Day were formed.
On April 10, 2008, when speculation of the band peaked, Green Day emailed MTV News and officially confirmed their identity as the Foxboro Hot Tubs. ("We think that the only similarity is that we are the same band.") The band even provided details on Foxboro Hot Tubs' name derivation ("The Foxboro Hot Tubs were a place we used to sneak booze and chicks into late at night. But most of the time it was just 'dude soup' "), and the formation of the band. ("We are four guys who love to play music and be spontaneous, [and] after a few late night jams and a few too many bottles of wine, we were inspired to record some rockin' eight-track recordings.")[1]
Nearly two weeks later, on April 22, 2008, Foxboro Hot Tubs released their debut album, also titled Stop Drop and Roll!!!. Every song from the eponymous extended play (apart from "Highway 1") was included on the album. The song "Mother Mary" became a hit on alternative rock radio, hitting No. 16 on the Billboard Modern Rock Tracks chart. "The Pedestrian" was later released as the second single, and the song "Stop, Drop and Roll" was released as the third and last single in late 2008.[citation needed]
On June 6, 2009, Foxboro Hot Tubs made their television debut on Last Call with Carson Daly; the show aired on June 12, 2009. Foxboro Hot Tubs played the songs "Stop Drop and Roll" and "Mother Mary".[2]
On October 31, 2009 during the 21st Century Breakdown World Tour, Green Day performed a brief set as Foxboro Hot Tubs as a Halloween surprise at the Manchester MEN Arena.[citation needed]
¡Dos! (2010–present)

[

edit

]
On April 23, 2010, the band played their first new song in two years, "Fuck Time", at a show in New York City. The song was later included in the trilogy album ¡Dos!. Green Day described ¡Dos!'s genre as "a Foxboro Hot Tubs-garage kind of feel" and even labeled it "the second Foxboro Hot Tubs album".[3]
On October 26, 2013, Foxboro Hot Tubs performed at a secret show at Eli's Mile High Club in Oakland, California. The setlist contained performed a majority of Stop Drop and Roll!!! and even some songs from ¡Dos!.
Members
[
edit
]
References
[
edit
]